🌿 LEMON BALM 🌿
Boosts cognitive function. Reduces anxiety. Eases insomnia.
The little
herb that hung
in the stars.
This delicate lemon flavored herb has been used to calm the body and mind dating back to ancient times.
Native to the Mediterranean, lemon balm is a lemon scented and flavored herb that belongs to the mint family. The use of lemon balm dates back thousands of years to the times of ancient Romans and Greeks. The relationship between astrology and herbalism was highly regarded in ancient medicine practices. According to a historical botanist and astrologer, lemon balm is ruled by the planet Jupiter, and has an association with the element of water, which impacts emotions. The herb has been referred to as "elixir virae", or the elixir of life, and throughout history has been used to chase off melancholy and even soothe heartbreak.
Modern scientific evidence suggests that lemon balm promotes gastrointestinal health, which explains why it is regarded as an herb to lift spirits. After all, a happy belly = a happy mind. 
Studies suggest regularly consuming the herb may promote overall wellness and longevity due to its high antioxidant content. 
Lemon balm is known to reduce stress and anxiety, boost cognitive function and even relieve menstrual cramps.
According to Scientific Research:
Research suggests that lemon balm can be used to relieve menstrual cramps and premenstrual syndrome (PMS.) Our Menopause blend contains lemon balm, maca root powder, peppermint and other ingredients that work to soothe hormonal symptoms and create feelings of overall wellness.
TASTING NOTES:
citrus ∙ earthy ∙ herbaceous 
According to Scientific Research:
Lemon balm is said to soothe symptoms of stress, help you to relax, and boost your mood. Our aphrodisiac blend, D Tea F, contains lemon balm, damiana and other ingredients that promote relaxation and circulation.
TASTING NOTES:
earthy ∙ floral ∙ bold ∙ tanginess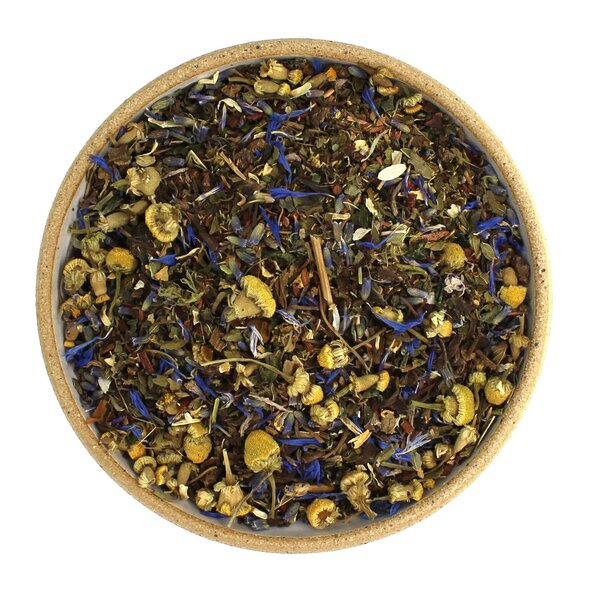 According to Scientific Research:
Combining lemon balm with valerian root may relieve restlessness and sleep disorders, such as insomnia. Our Dulce Suenos blend contains lemon balm, valerian root and other calming ingredients that promote sleep and reduces tension.
TASTING NOTES:
floral ∙ refreshing mint ∙ floral
🍋 Step up your brew game. 🍋
 ⬇︎
Yellow Daisy Cast Iron Teapot
Black Cast Iron Teapot