3 tea pairings
for your summer outdoor activities
 🧘🏽‍♀️ 🌿 🧘🏽‍♀️ 🌿
Are you working in the garden this summer? Try this tea!
Lavender Sage Lemonade is blended with ingredients often found in a garden, making it your ideal companion to bring along when tending to your plants.
Made with lemon myrtle, lemongrass, lemon peel, sage, lavender, rose hips, licorice root and calendula petals, this blend is herbaceous and refreshing. It works to help detoxify the body and calm the mind!
We recommend using 2 teaspoons of Lavender Sage Lemonade per 8 oz of water. Serve iced and unsweetened or with a spoonful of honey to accentuate the lemon flavor.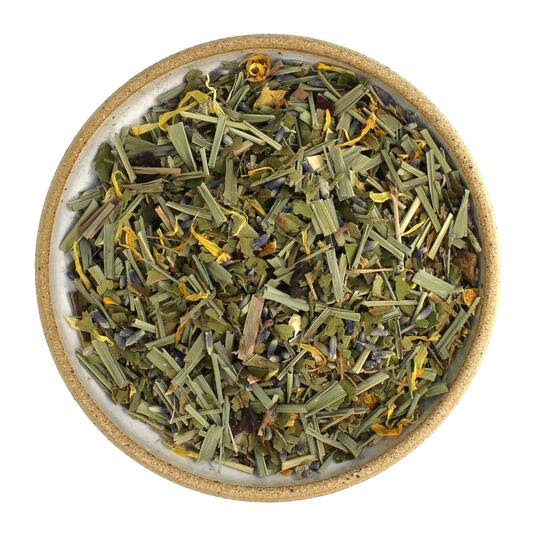 Love to hike & explore your natural surroundings? Try this tea!
Yerba Maté & Peppermint is invigoratingly fresh and hydrating! Yerba Maté is packed full of antioxidants and is higher on the caffeine level, giving you that boost of energy you need when on a long walk or hike. Peppermint adds a sweet and refreshing taste that invigorates the senses and instantly boosts your mood.
We recommend using 2 teaspoons of Yerba Maté & Peppermint per 8 oz of water. Serve iced with a dollop of honey and fresh mint.
Looking forward to lounging under the warm sun and relaxing this summer?
Strawberry Mojito may be your new BFF. This tea blend pairs perfectly with all things leisurely! Its subtle strawberry, hibiscus and green tea flavor is refreshing and transports you to an island vacation. This blend also supports healthy brain function, boosts metabolism and is rich in antioxidants.
We recommend using 2 teaspoons of Strawberry Mojito per 8 oz of water. Serve with lots of ice, a little honey and a splash of a splash of rum if you desire. 😋
Check out more sweet summertime blends: