Essential Oils
diffuse during the holidays to set the vibe
⬇⬇⬇
The holiday season is fast approaching, and that means your home might soon be full of family and friends! One of the best ways to prepare for guests is to get the aroma of your space right. Diffusing essential oils is the perfect way to do this, as they have many health benefits, humidify the air while keeping your space fresh, and have mood and energy boosting effects. Diffuse your essential oils this holiday season to add a touch of comforting homeyness that your friends and fam will love.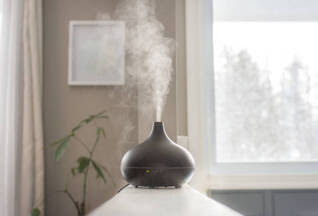 Minty Fresh Essential Oil Blend
This blend captures the feeling of taking a deep breath in the high mountains during late fall. Aromas of a damp forest floor and soaked earth blend together, and inspire feelings of peace and gratitude. The three oils work together to improve breathing, soothe coughs and alleviate sore throats-perfect for cold and flu season.
Diffuse in bathrooms and guest bedrooms to add a sense of cleanliness and promote clarity.
More Comforting EOs For The Season:
Mostly recognized for its use in cooking, Rosemary has also been used to reduce tension and support healthy digestion. Diffuse in the kitchen or dining area while a delicious meal is being prepared. Rosemary will compliment the aroma of a turkey cooking in the oven or the mashed potatoes whipping in the blender. 🤤
Pine has a sharp and grounding aroma that creates a soothing environment and is reminiscent of a freshly cut Christmas tree. This oil is a go-to for getting in touch with nature and getting into the holiday spirit! Diffuse in the living room to create feelings of harmony and balance while cozying up for a movie with the family or decorating a Christmas tree.
Lemon is known for its antibacterial benefits, as it is found in many household cleaning products. Lemon Essential Oil adds a burst of refreshing energy to any room, and is an instant mood booster. The home can get a little messy and hectic during the holidays, so diffuse this oil in the kitchen or guest rooms keep them feeling fresh, bright and uplifting.
MORE ESSENTIAL OIL ACCESSORIES FOR YOU:
Essential Oil Diffuser Bracelet