🫐 b∙l∙u∙e∙b∙e∙r∙r∙y 🫐
naturally sweet ∙ fruit-forward ∙ refreshing
Early on, Native Americans in North America recognized the health benefits and versatility of blueberries, using them for medicinal purposes, cloth dye, and as natural flavoring. Today these little blue dynamos are a staple fruit for the summer and are the most nutrient dense berry there is! Our naturally sweet Blueberry tea blend is something the whole family will love and makes a healthy alternative to juice. 
INGREDIENTS:
blueberries, hibiscus flowers, rose hips, apple pieces, and natural blueberry and apple flavors
BREW TIPS:
This blend is lovely served iced with a spoonful of honey! 
Blend with Lemongrass, Lavender Sage Lemonade, or Wild Strawberry.
STEEP:
1 - 2 teaspoons in 8 oz of hot water for 5 - 10 minutes
Blueberries have the highest antioxidant capacity of all the popular fruits and vegetables. Blueberries have been shown to directly increase antioxidant levels in your body
Several studies suggest that blueberries and blueberry juice reduce DNA damage, which is a leading driver of aging and cancer.
Like cranberries, blueberries contain substances that can prevent certain bacteria from binding to the wall of your bladder, which may help prevent UTIs.
Did You Know Tomorrow Is National Blueberry Pie Day?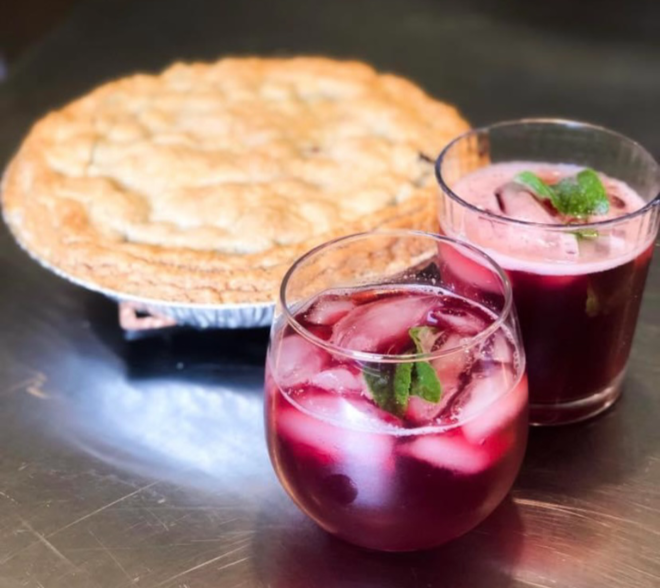 Recreate the bold fresh fruit and nutty vanilla favors of a blueberry pie by blending our Blueberry tea with Vanilla Rooibos tea. It tastes like the real deal but in tea-form. 💜
More Fruit Forward Caffeine Free Blends For Warm Weather: