Celebrating 5 Years In Albuquerque, New Mexico 🎈
get the scoop on our story, customer favorites, and more inside
A HUB OF CULTURE & HISTORY
This week marks a special occasion for our little tea company - it's our 5 year anniversary of sharing our love of tea with you in the hub of New Mexico, Albuquerque. Albuquerque Old Town is an oasis in the high desert, where culture and diversity are rich. When you walk into the Old Barrel Tea Co. in Albuquerque Old Town you instantly feel at home and your senses transport you to a secret desert-scape tea garden. Bright sunshine floods through the windows, saturating the 100 year old red brick floor and adobe walls in warmth and color. Plants stretch their leaves towards the windows, soaking up the morning light, as the heavenly aromas of freshly brewed tea and honey swirl in the air. The soothing water sounds of the aquaponics goldfish tank soothe and calm, creating an experience that is one of a kind.
Our team in Albuquerque is composed of the kindest souls that have found friendship and community in Albuquerque Old Town. They have great work ethic and grind everyday. If you peek into the tea shop window after hours you might see our spunky team indulging in a dance session! They are a fun-loving and joyful bunch! 🙂
Stop by the store to meet Rachel,  Lily, Dante and Baylee.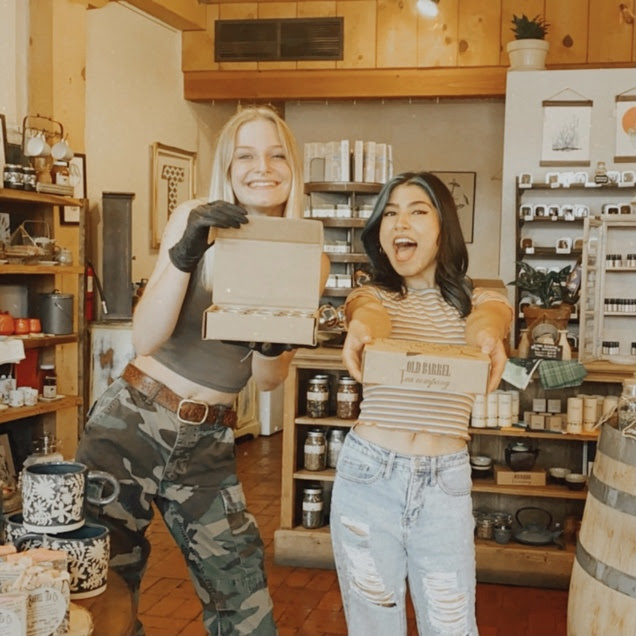 THINKING ABOUT VISITING ALBUQUERQUE?
 ☀️ HERE'S THE SCOOP ☀️
The city of Albuquerque was founded in 1706 as a Spanish colony, and has since been a hub for diverse culture and tradition in the Southwest. Route 66 runs straight through the center of the city and is filled with vintage neon glowing lights and nightlife, while Old Town exists in stark contrast, as if frozen in time, just a few blocks away. Historic adobe buildings, museums, and Native American art are around every corner, as strums of guitar tunes flow throughout the narrow streets.
Albuquerque is also the hot air ballooning capital of the world, as the famous hot air balloon festival, or the Balloon Fiesta, takes place below the Sandia Mountains where 750,000 people from all over the world attend to watch the sky fill with hot air balloons!
Balloon Fiesta happens every October. Come see us and prepare to be amazed by the morning sky, as hundreds of balloons dance in the sunrise!
Start your day in Old Town Albuquerque with authentic New Mexican cuisine at one of our favorite restaurants in the plaza, wine down the afternoon at Noisy Water Winery's brand new tasting room, and then stop by the tea shop around the corner to stock up on the essentials. 
🤍 LOCAL BRANDS WE LOVE 🤍
OBTC understands the importance of supporting local creators, so we love to collaborate with those who offer something unique. You can find many local unique treasures in our shop! Here's a few of our favs in our ABQ store: 
👇👇
NM Prickly Pear Jelly
(@nmpricklypear)
Phytotherapy Tinctures & Serums
(@smphytotherapy)
Heidi's Raspberry Farm Jams
(@heidis.raspberry.farm)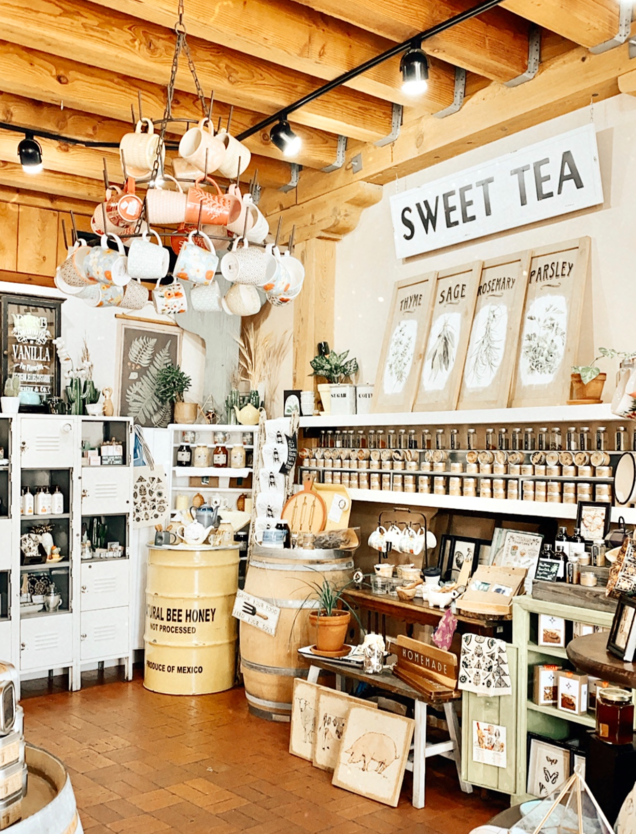 The locals and visitors alike ALL love our Prickly Pear Green Tea. Maybe it's because it keeps us feeling hydrated in the hot desert sun, or maybe it's because it tastes so good in a margarita tea cocktail! Either way, this southwest inspired tea takes the cake!
INGREDIENTS:
green rooibos, sencha green tea, hibiscus, pear pieces, safflower, and natural flavors
ABQ OBTC'S MOST POPULAR TEAS
OUR MOTTO
We're a female run family business.
We drink tea and tisanes for breakfast, lunch, dinner and all the time in between.
We don't put our pinkies up while drinking tea.
We use honey in our tea, but we also use honey as medicine & for skin care.
We love to cook & we love to eat.
We're flavor obsessed & wellness oriented.
We are united by the hedonistic belief that wellness should be a pleasure.
Happy tea time friends!