A Gift For The Chef
spices to fall in love with & add to your arsenal of secret ingredients 👩🏽‍🍳
⬇⬇⬇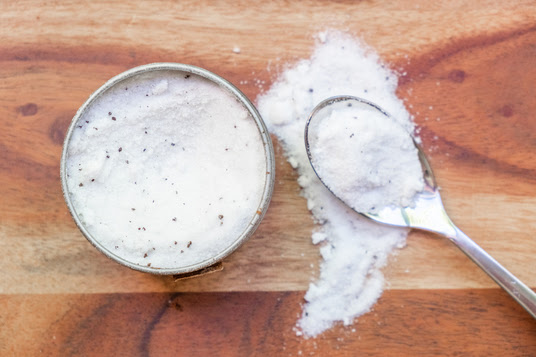 earthy • funky • savory
Enhance savory holiday dishes with truffle! 🤤
The truffle mushroom grows on the roots of trees in various regions across the world and is hunted by wild mushroom hunters and their truffle sniffing companions (dogs or pigs). They are sold for a premium because they are difficult to cultivate outside of their wild habitat. They are simply wild by nature - the aroma of the truffle emulates the pheromones of mammals, thus luring us (and our furry friends) to them with their intoxicating and seductive aroma.
Truffles make every savory dish feel more indulgent. Don't know where to start? Try out Black Truffle Sea Salt on the following:
Season steaks and mashed potatoes.
Add to a breakfast scramble with asparagus, mushrooms, and cheese.
Sprinkle on marinated olives or on olive oil for dipping bread.
Season seared ahi tuna and serve on a bed of arugula with sautéd jalapeños and garlic. Top with soy sauce.
Serve on homemade popcorn with olive oil and parmesan cheese.
Add to any pasta or rice dish.
⬇⬇⬇
Get SPICY with the flavors of New Mexico.
⬇⬇⬇
With Hatch Green Chile Powder, Hatch Red Chile Powder, and New Mexico All-Purpose Seasoning.
🌶 💚
For the seafood broil & the gumbo!
⬇⬇⬇
Seafood Seasoning
Allspice, celery, fennel, garlic, sea salt, lemon, onion, paprika, parsley, tarragon, dextrose, fructose, oregano, black pepper, and citric acid.
Shake on any seafood while cooking.
Brown sugar, smoked paprika, dill weed, garlic oil, black pepper, lemon oil, sea salt, celery, dextrose and onion.
Delicious rubbed on salmon, but can be used on other seafood.
Elliot Bay Seasoning
Celery, fennel, ginger, lemon, onion, paprika, parsley, citric acid, and tarragon.
● Salt Free ●
This is a great all-purpose seafood seasoning.
Spices for the meat loving foodie.
⬇
Blackening Seasoning
Paprika, onion, garlic, cayenne, white pepper, black pepper, thyme, and oregano. Use on grilled steak, poultry and seafood!
● Salt Free ●
Salt, onion, sugar, black pepper, allspice, thyme, cayenne, cinnamon, nutmeg, bay leaves, green onion.
Use as a dry rub or a marinade on pork or chicken before cooking.
Hibiscus Rub
Hibiscus, lemongrass, garlic, basil, lime juice powder, lavender.
Best used on fish or chicken. Pair it with your favorite fresh greens.
Happy holiday shopping friends! We hope your weekend is full of good food, interesting conversations and belly laughs.