DIY FACE SERUM
with October's autumn-inspired essential oil blend. 
🌝 🌿 🌝 🌿 🌝
Harvest life Essential Oil Blend
Aroma Notes:
warm wood ∙ leafy earth ∙ citrus simmer pot
The earthy-sweet blend transports you to a cozy evening spent at home, while overcast clouds chill the air and the aroma of baking spices, damp cedar bark, and citrus swirl from a simmer pot on the stove. 
enjoy 10% off this month only.
These three oils work together to comfort, boost mood, and sooth anxiety and fatigue, while nourishing the skin, boosting immunity, and grounding the senses. Combined with a carrier oil and vitamin E oil, this concoction makes a hydrating and toning face serum.
HERE'S THE RECIPE
⬇
THINGS YOU NEED: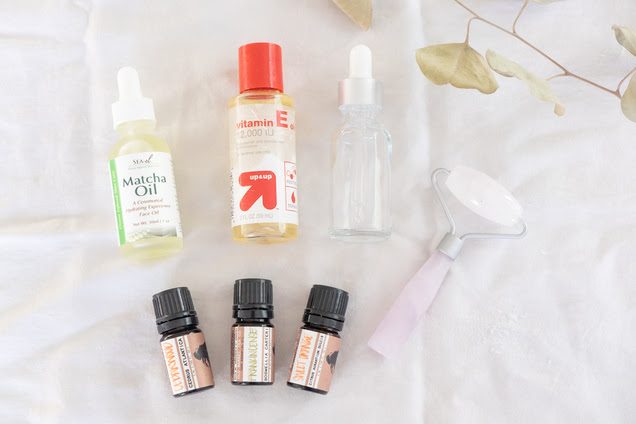 DIRECTIONS:
1. Fill 1/3 of the tincture bottle with Vitamin E oil. Vitamin E visibly improves the skin tone and texture, while reducing the look of dull skin and dark spots. 
2. Fill another 1/3 of the bottle with a carrier oil of your choice. We used matcha oil, but depending on your skin type different oils can be better for you. Here's a quick guide: 
Dry skin: Try grapeseed, argon, sweet almond, or avocado oil.
Oily skin: Try hemp or grapeseed. 
Normal/combination: Try jojoba, grapeseed, or sweet almond.
3. Top off the serum with your drops of essential oils. Cedarwood Atlas EO helps combat acne, Sweet Orange EO tones and brightens the skin, and Frankincense moisturizes your skin, giving it natural and youthful glow. 
TO USE:
Wash your face with a gentle cleanser of your choice, give the serum bottle a good shake, and apply to clean skin with your fingers or with a rose quartz facial roller to reduce puffiness and enjoy the cooling sensation of the stone. 
Metaphysically, rose quartz corresponds to the heart chakra, the energy center of love. 😉
Use as a moisturizer before bed, or use as alternative to makeup during the day.
try more skin-nourishing essential oils