spring cleaning
🌿 freshen your space with natural ingredients 🌿
Many all purpose cleaners contain ingredients harmful not just to the Earth, but to our bodies as well. Thousands of chemicals from cleaning products are washed into streams and rivers and volatile organic compounds (VOC) in cleaning products can affect indoor air quality and add to outdoor smog. Using natural cleaning products that use ingredients purely derived from nature and that are non toxic is one of the easiest ways to give back to the Earth. ⬇
Lavender Herbal Natural Cleaner
Made with alcohol in the form of vodka, water, hydrogen peroxide, and essential oils, this multi-purpose cleaner works to eliminate dirt, grease, grime, and bacteria.
No parabens. No phthalates. No endocrine disruptors.
SAFE ON GLASS, TILE, STAINLESS STEEL, AND MOST OTHER SURFACES. DO NOT USE ON WOOD.
Want to make your own natural cleaner?
 Check out our recipe:
Grounding Day Essential Oil Blend
In a reusable medium-sized spray bottle, mix together 2 tbs baking soda and a 1/3 cup of vinegar. Be very careful and go slowly! This stuff will get extra fizzy, and you will experience a scientific experiment right before your eyes. Keep your spray bottle nozzle turned to "open" to prevent pressure build up in bottle.
After the vinegar and baking soda have been mixed, add 2 cups of water and 7-10 drops of each essential oil. Shake these ingredients together well.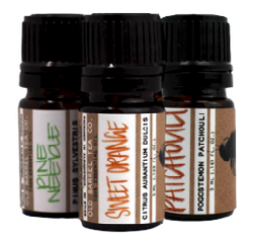 More antimicrobial essential oils for cleaning: