Iced Pineapple & Coconut Latte
With pineapple upside down coffee cake tea & coconut milk.
🍍 🥥 🍍 🥥 🍍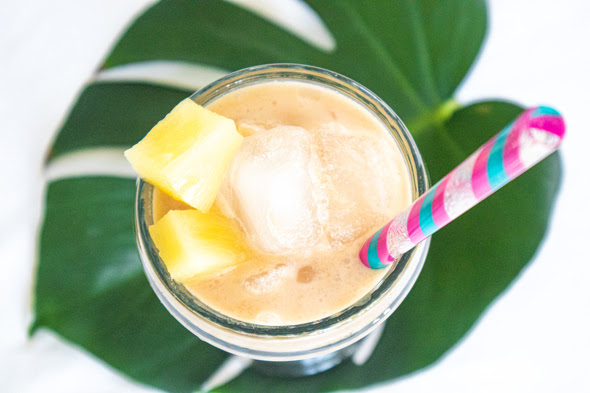 This tea latte is made with our tea of the month, Pineapple Upside Down Coffee Cake! This tea blend is made with dark oolong, Piñon coffee, calendula petals, rose petals, and pineapple pieces. If you are a tea AND coffee lover, this blend is for you! Combined with creamy coconut milk, Mesquite Honey, a dash of Vanilla Extract, and just a sprinkle of Vietnamese Cinnamon, this tea latte will become your go-to beverage as the weather starts warming up!
HERE'S WHAT YOU NEED FROM US TO GET STARTED
⬇⬇⬇
Pineapple Upside Down Coffee Cake
INGREDIENTS
(makes 2-3 servings)
INSTRUCTIONS
Heat one cup of water to just before boiling and steep

 

Pineapple Upside Down Coffee Cake

 

for 20 minutes. 
Add your

 

Mesquite Honey, stir until dissolved. 
Cool tea concentrate in fridge. You can continue infusing the tea in the fridge.
Add chilled tea, pineapple chunks, coconut cream, and

 

Vanilla Extract

 

to a blender and pulse until smooth and creamy.
Pour your tea mixture two cups of ice.
Add a sprinkle of

 

Vietnamese Cinnamon

 

on top and enjoy!
CHECK OUT MORE TEA BLENDS FOR LATTE MAKING.
⬇︎⬇︎⬇︎