TUMBLERS FOR A CAUSE
🌿 🌿 🌿
These tumblers were designed by our friend and artist, Jocelyn Rose, in collaboration with two of the OBTC owners, Dana and Paola. The artwork depicted on the tumblers represents a charitable passion, and $10 of each tumbler sold goes towards a special cause chosen by Dana and Paola.
Say hello to our ChariTEA Tumblers.
⬇⬇⬇
ChariTEA Tumbler: Fighting Cancer Together

Dana, the matriarch of our tea family and a three-time cancer survivor, designed this mug to support patients and families impacted by cancer.
With the money raised by this ChariTEA Tumbler, Dana plans to visit patients in cancer treatment centers to donate directly. She plans to donate customized care packages that reflect the often forgotten struggles of cancer patients.
ChariTEA Tumbler: Supporting Mexican Orphanages
Paola, our herbalist and master blender immigrated from Mexico to America at the age of six, and is passionate about giving back to the children suffering extreme poverty just across the border.
With the money raised by her ChariTEA Tumbler, Paola plans to visit Mexican orphanages to share toys, books, clothing, and essential items to the children in need across orphanages in Chihuahua, Mexico.
This tea-sipping, cocktail-drinking, mother-in-law/daughter-in-law duo would love your help supporting the causes they care about! 
Cheers & happy tea time friends!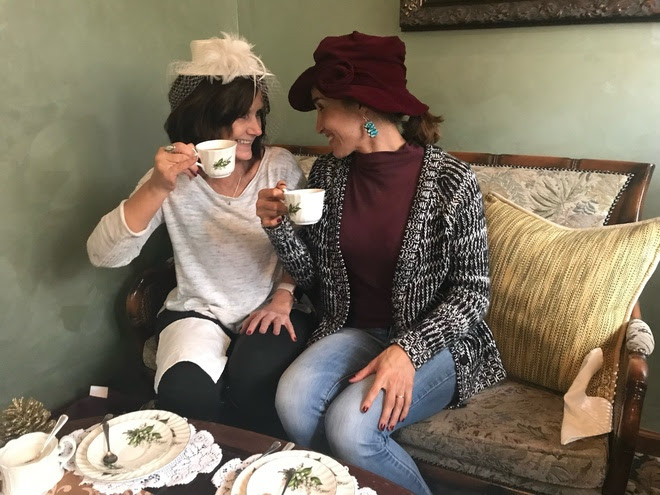 Dana (left) & Paola (right)
Photo taken at one of our favorite day dates in Albuquerque, NM - St. James Tea Room.
Here is what is most likely in Dana's tumbler.
⬇︎⬇︎⬇︎
And here is what is most likely in Paola's tumbler.
⬇︎⬇︎⬇︎