DIY: Medicine Ball
old barrel tea style
🍯 🌿 🍯 🌿 🍯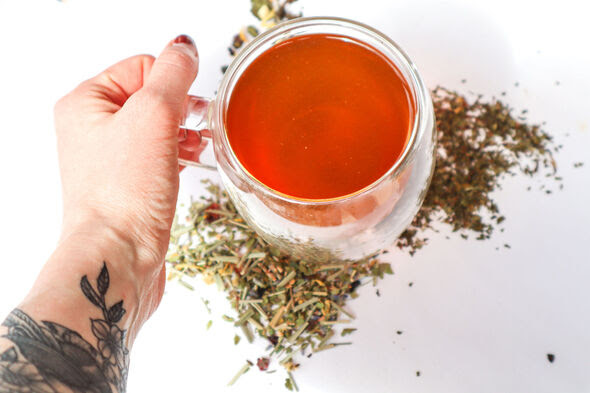 If you haven't tried Starbucks' medicine ball tea, this combination might sound a little strange! But trust us, it is the perfect tea to soothe you during the colder months. This citrus, herb and peach combination gained popularity as a remedy for sore throats and seasonal allergies. It is a secret menu item at Starbucks that customer claim is a "cure-all." 
Our version of the medicine ball is made with hot water, our Lavender Sage Lemonade tea, Peppermint tea and White Peach tea with just a small teaspoon of Orange Blossom honey.
It is delightfully vibrant, herbaceous and soothing.
HERE'S WHAT YOU NEED FROM US TO GET STARTED
⬇⬇⬇
INGREDIENTS
(makes 1 cup)
It's pretty easy. You just need to...
Steep

 

Peppermint,

 

Lavender Sage Lemonade,

 

White Peach

 

tea for 5 minutes in hot (not boiling) water.
Sweeten with a touch of

 

Orange Blossom

 

honey.
Need some decongestant teas?