S T R A W B E R R Y
a symbol of motherhood & abundance
🍓 🍓 🍓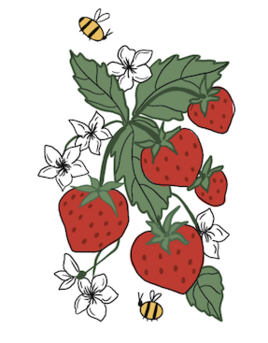 In many cultures across the world, strawberries are associated with motherhood, fertility, and abundance. Strawberries are among the first plant to produce fruit after winter in the areas where they are native, signifying rebirth and a new start. The "seeds" you see on the outside of a strawberry are actually the plant's ovaries! Each "seed" is technically a separate fruit that has a seed inside of it. Strawberries are also recognized for their rich vitamin c and folic acid levels, which are great for promoting a healthy pregnancy.
Strawberries are a good source of vitamin C, manganese, folate (vitamin B9), and potassium.
Strawberries may decrease your risk of heart disease and cancer, as well as help regulate blood sugar.
Strawberries have gentle detoxifying, antibacterial, and astringent properties.
Strawberries contain several bioactive compounds (called flavonoids) that are known to help protect against chronic diseases.
Refreshing and uplifting tea blends with strawberries: