tropical cinnamon sangria
infused in white wine and garnished with fruit
🍇 🍷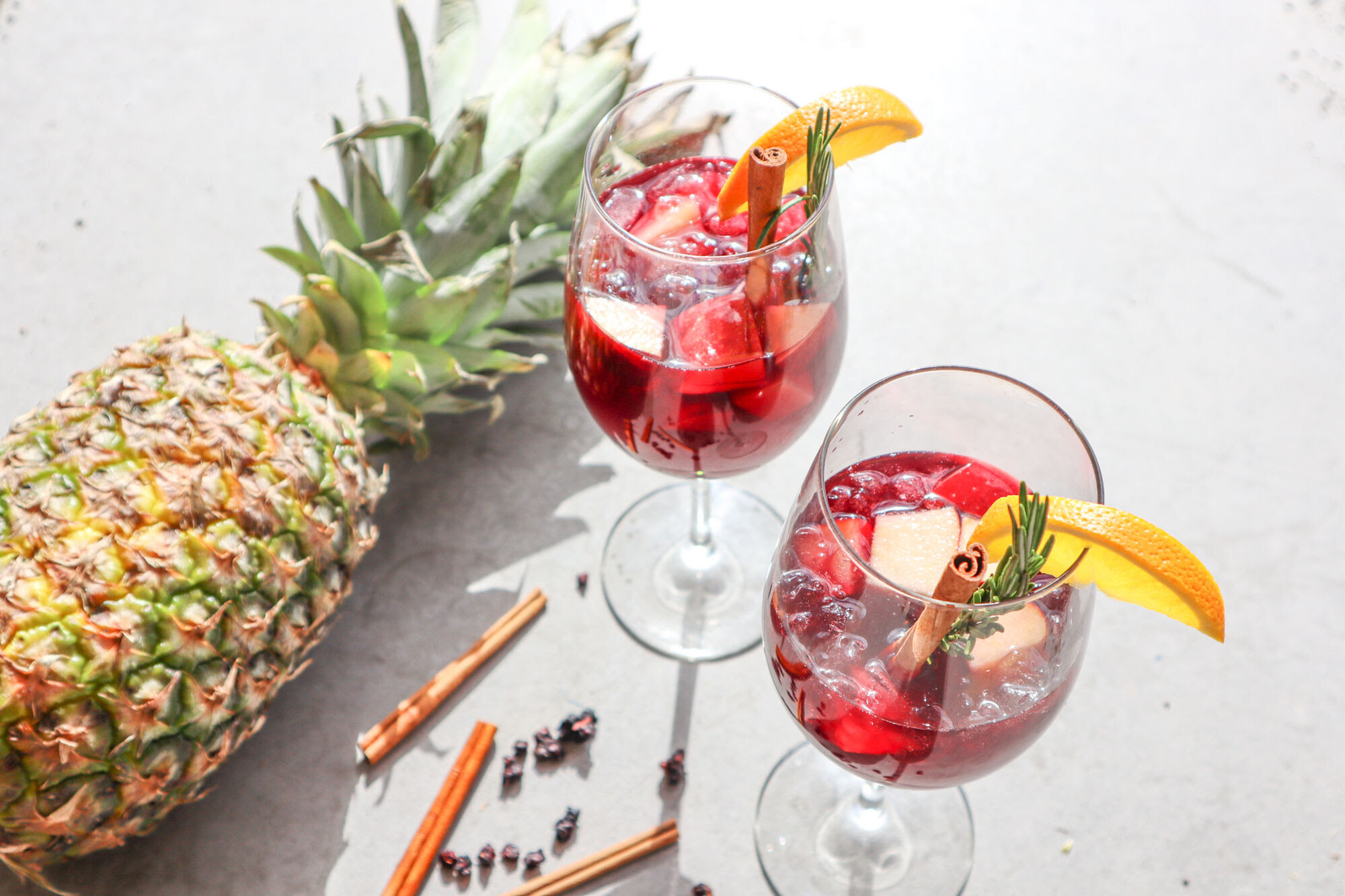 a sangria you won't forget
This tea cocktail is made with our 
Tropical Cinnamon Sangria
 tea, which has notes of hibiscus, cinnamon, and coconut. We infused it in a sweet summertime wine, 
Jo Mamma's Mango Tango
, from Noisy Water Winery and served it over some crunchy frozen grapes with lots of fruit to garnish. This sangria recipe is easy to fall in love with and might become a regular recipe for you this summer, just sayin. 😉
HERE'S WHAT YOU NEED FROM US:
This blend is bold, tangy, and rich with a subtle cinnamon kick! It is antioxidant-rich, energizing, and promotes digestion and metabolism.
INGREDIENTS:
8 tsp. 

Tropical Cinnamon Sangria

1 bottle of 

Jo Mamma's Mango Tango (or your favorite white wine)

frozen grapes

1 oz of freshly squeezed orange juice

tonic water

blueberries, apples, strawberries, orange slice, and cinnamon stick to garnish
Add Tropical Cinnamon Sangria tea to an infuser and steep in your wine for at least an hour. It is easiest to pour the wine in a large mason jar to infuse (a bottle of wine fits perfectly).

Add your tea-infused wine to a glass and top with fresh squeezed orange and tonic water or ginger ale (both are great options). Stir.

Add frozen grapes (a lovely alternative to ice), fresh fruit and a cinnamon stick.

Enjoy with your favorite wine/tea lovers or make for dad this father's day. But he's probably already sweet enough so go easy on the fruit. 😉
more fruity teas to try this summer: