Ginger Orchard Medley & Lavender Sage Lemonade
vibrant ginger ∙ floral undertones ∙ zesty citrus
⭐️ GINGER + LEMON = MAGIC ⭐️
One of the most perfect duos for the heat of July! Ginger Orchard Medley & Lavender Sage Lemonade, our tea blend of the month, is an invigorating refresher! The ginger, chamomile, and apple in the Ginger Orchard Medley brings sweet, soft, and slightly spicy elements to the blend, while zesty citrus and vibrant herbs shine through the Lavender Sage Lemonade.
Think of this blend as an elevated lemonade, with garden herbs and flowers, and a touch of caffeine!
⚡️ THE GUT-BRAIN CONNECTION ⚡️
Did you know that your gut health can affect your brain health? Many studies show that stomach issues, like digestion problems, have been found to be linked to both anxiety and depression. The ingredients in this blend work together to provide you tons of antioxidants, support immunity, boost mood and energy, and promote healthy digestion and metabolism. 
Ginger Orchard Medley & Lavender Sage Lemonade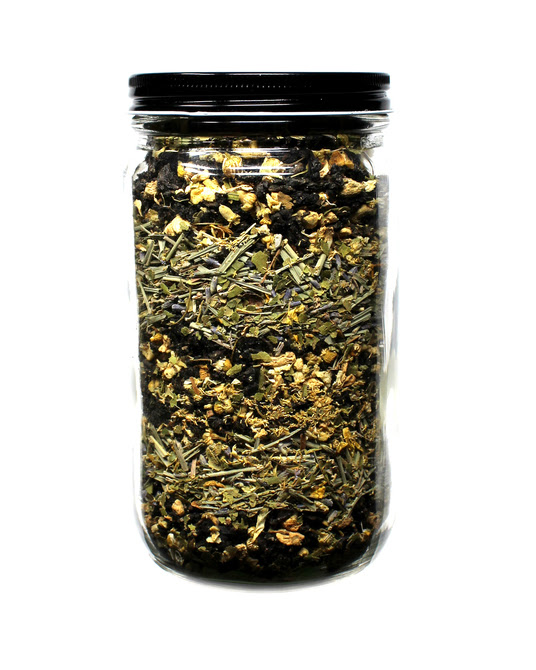 INGREDIENTS:
oolong tea, chamomile, apples pieces, peaches, lemon myrtle, ginger, natural flavors, lemon myrtle, lemongrass, lemon peels, sage, lavender, rose hips, licorice root, and marigold flowers
BREW TIPS:
This blend is lovely served iced and unsweetened, or with a spoonful of honey, to accentuate fruit flavor.
STEEP:
1 - 2 teaspoons in 8 oz of hot water for 5-7 minutes
SHOP MORE LIGHTLY CAFFEINATED AND FRUITY BLENDS: