Veggie Garden Inspired
Recipes For You
Harvesting season is upon us and the veggies are comin' in HOT! Sometimes Mother Nature gives us more than we could ever ask for, and sometimes more than we want. If you have an abundance of garden vegetables and your friends won't let you pawn any more off on them, or if you just want to incorporate more freshness into your meals, try out these garden-inspired recipes to meal plan for the week and close out the harvest season!
⬇︎
Party Snack in a Pinch:
Featuring Veggie Dip Mix
Veggie Dip Mix
With onion, parsley, dill, celery, dextrose, and sea salt.
Mix 2 tbsp of Veggie Dip with 1 cup of mayo and 1 cup of sour cream, or 2 cups of greek yogurt for a healthier alternative. Chill for 30 minutes before serving.
SERVE WITH:
carrots, broccoli, snap peas, bell peppers, cucumbers, cherry tomatoes and crackers
Creamy Herb Quinoa:
Featuring Creamy Herb Salad Dressing
Creamy Herb Salad Dressing
with garlic, white pepper, basil, chervil, dill, oregano, parsley, rosemary, spearmint, and thyme.
This Creamy Herb Quinoa recipe is completely fresh and makes for a great side dish or lunch option. Check it out!
⬇︎⬇︎⬇︎
Ingredients:
2 cups of quinoa (tricolor optional)
4 cups boiling water
2 tsp. olive oil
6 tsp.

 

OBTC CREAMY HERB SALAD DRESSING
3 cloves minced garlic
pinch of salt to taste
2 tbsp. chicken bouillon (optional to taste)
any fresh veggies and herbs you enjoy! For example...

tomatoes
cucumber
onion
basil
thyme
rosemary
Instructions:
Rinse quinoa to remove any dust.
In a medium pot, heat 2 tsp. olive oil, add quinoa and garlic cloves and toast on low for approximately 5-8 minutes, or until quinoa has a slight nutty smell.
Once quinoa is toasted, add 4 cups of boiling water, OBTC Creamy Herb Dressing, and chicken bouillon. Stir well, adding more herb dressing to desired taste.
Cover, let simmer for 10-15 minutes, or until all liquid has evaporated and quinoa is fluffy.
Let cool and top with fresh veggies and herbs from your garden. We especially love adding fresh basil, sliced cherry tomatoes, and cucumber!
Top with feta!
MORE SPICES TO MAKE WITH LIGHT & FRESH MEALS:
Bouquet Garni
Hibiscus Rub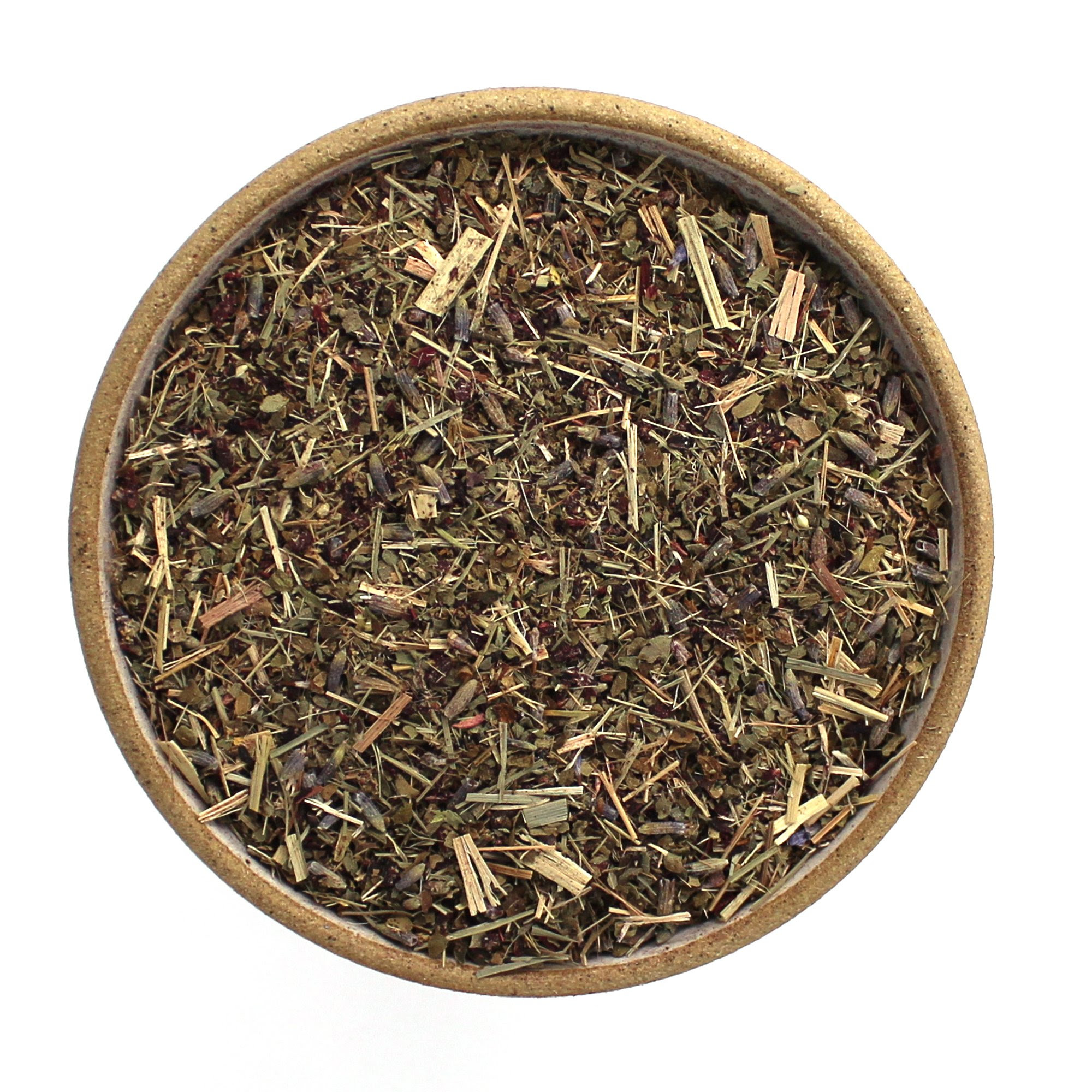 Honey Mustard Dressing