SHINING THE SPOTLIGHT
⭐️ ⭐️ ⭐️
Michael's Favorites + Tips and Tricks
OUR JULY EMPLOYEE FEATURE
This month we are shining the spotlight on Michael, one of our Albuquerque team members! Michael's favorite part about this job is getting to interact with all the customers and help them discover their new favorite tea. His great people skills leave every customer that walks in feeling happy and welcome.
Check out Michael's favorite tea.
⬇︎⬇︎⬇︎
This blend is bold, tangy, and rich with a subtle cinnamon kick! It is antioxidant-rich, energizing, and promotes digestion and metabolism. 
Michael drinks this all day everyday while studying, or sipping on it while he enjoys his patio.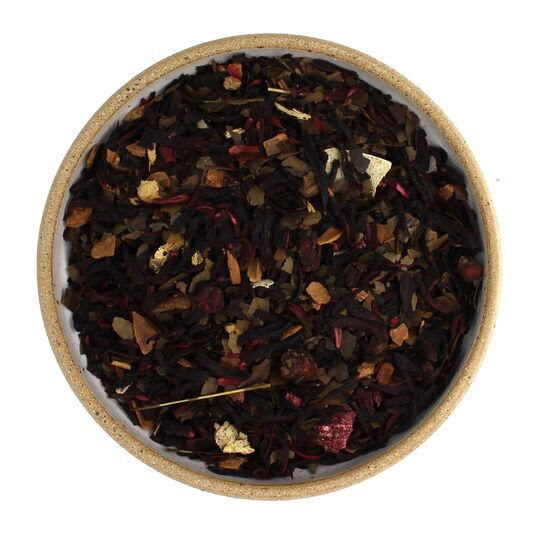 Make this tea the way Michael does!
⬇︎⬇︎⬇︎
To make the perfect brew, Michael suggests adding two full teaspoons of the blend to 8 ounces of water and steeping for 5-10 minutes. He sweetens it with raw cane sugar and uses his Flash Chill Iced Tea Maker to get the perfect brew.
FUN FACT:
Michael uses this tea to make cocktails with!
Love to experiment with your cooking?
Michael has some advice.
⬇︎⬇︎⬇︎
While this can be made into a drink, Michael also likes to use it in cooking! We call our Golden Milk a superfood blend because it is made with ingredients that improve health and reduce risk of diseases like cancer, Alzheimer's, and heart disease. 
Michael suggests using this in Indian dishes like curry!
Self-Care Inspo
⬇︎⬇︎⬇︎
We asked Michael what his favorite way to practice self-care is and this is what he said:
"Enjoying any kind of outdoor activity like walking along the river, hiking, skateboarding, or even going to the gym."
3 OTHER TEAS MICHAEL RECOMMENDS: