AUTUMN ORANGE GARLAND DIY
paired with our tea of the month cocktail recipe
🍊 🍯 🍁
As we approach the end of the summer season, the nights are getting cooler, the sun goes down earlier, and late-harvest fruits are ripe for the picking. We're not quite to Autumn yet... but we are getting excited to pull cozy sweaters out of our closets for crisp mornings and chilly evenings!
Check out this tea cocktail and activity inspired by this transitional time of year.
⬇︎⬇︎⬇︎
We chose Blood Orange & Lemongrass as our tea of the month for August because it is super immune boosting - just in time for going back to school! However, as we look forward to September, the dark fruit flavors and the early fall aromas of this blend inspired the most refreshing late summer recipe! Today we are sharing with you our recipe for a Spiced Honey Blood Orange Margarita! 
This cocktail recipe is bright and citrus-fresh with a subtle kick! The blood orange peel, hibiscus flower, and rose hips add tart sweetness, while the Lemongrass tea mellows the blend with soft lemon flavors. This recipe uses our Sunflower Honey, adding a touch of that fall-flower feel, a dash of our smooth Mexican Vanilla Extract, a couple of cinnamon sticks, and blood orange flavored tequila.
Tea Date Idea
Plan ahead for September and schedule a tea-date with your partner or friends! You can make this cocktail and dried orange garland to get in the Autumn spirit! These orange slice garlands add the perfect touch of fall to your home, and can be used as decor throughout the season! Oranges are also an ingredient you need to make this tea-cocktail recipe, making this project easy, peasy orange squeezy. 
⬇
WHAT YOU WILL NEED:
2 navel oranges or whatever citrus you prefer! 
serrated knife
cookie sheet
paper towel or lint free cloth
parchment paper
twine
scissors
Here is how you do it!
⬇
INSTRUCTIONS
Heat oven to 250 degrees F.
Line cookie sheet with parchment paper.
Slice oranges crosswise 1/8″ – 1/4″ thick using a sharp serrated knife, and pat slices dry with paper towel or cloth.
Place in a single layer on baking sheet and bake for roughly 2.5 hours. Flip the slices over after about 1.25 hours.
After 2.5 hours in the oven, remove any slices beginning to brown, and slide the remaining slices back in oven until dried and very slightly browned.
Once slices have cooled, use scissors to poke 2 holes about 1/2″ apart on orange slices.
Thread oranges onto twine and decorate!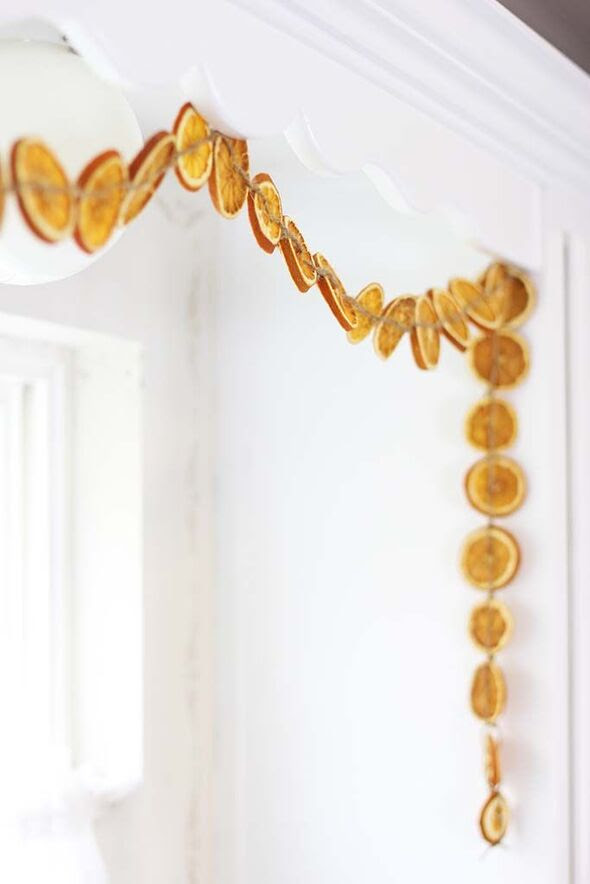 SPICED HONEY BLOOD ORANGE MARGARITA
🍊 🍊 🍊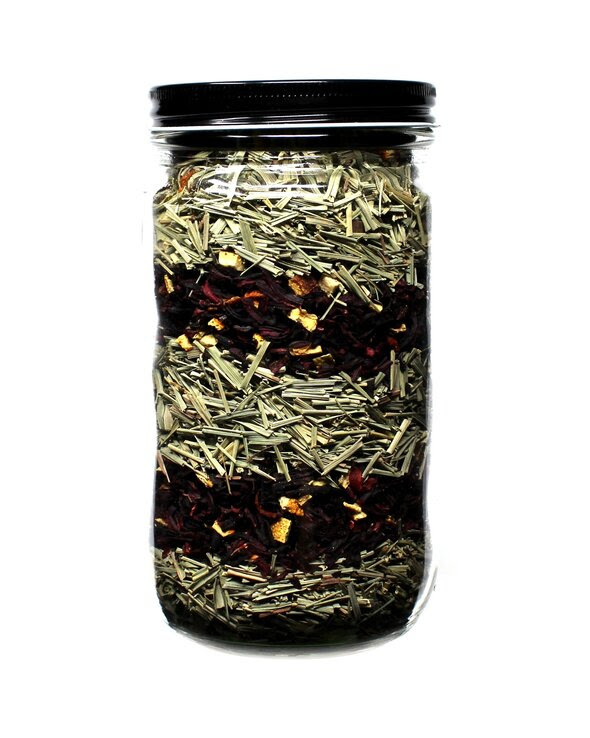 IN A NUTSHELL:
This naturally caffeine free blend is vibrantly fruit-forward and hydrating! It is rich in vitamin C and antioxidants.
BREW TIPS:
This blend is great served iced with a generous spoonful of honey! Add 1 - 2 teaspoons in 8 oz of hot water for 7 minutes.
INGREDIENTS:
Here is how you do it!
⬇
SPICED HONEY BLOOD ORANGE MARGARITA INSTRUCTIONS: 
Heat 8 oz of water to a boil and steep

 

Blood Orange & Lemongrass

 

together with cinnamon sticks for 10 minutes.
Add

 

Sunflower Honey

 

to strained tea and stir until dissolved.
Let tea mixture cool completely in fridge or freezer.
Rim glass with an orange slice and a sugar and salt combination.
Add sweetened tea mixture, Mexican Vanilla, a squeeze of orange, and the blood orange flavored tequila to an ice-filled shaker.
Shake vigorously until combined, strain into prepared glass, and top with an orange slice and previously used cinnamon stick.
THE TOOLS YOU NEED TO GET STARTED: