Blueberry & Lavender Sage Lemonade
herbaceous ∙ sweet lemon ∙ fruit-forward
IN A NUTSHELL:
This blend is refreshingly herbaceous and fruit-forward! Its bold fruity-floral flavors like blueberry, hibiscus, and rose balance perfectly with notes of lavender, sage, and lemon. This blend takes a spin on a classic lemonade, and adds that touch of fruit we all love. This is caffeine free and completely welcomed by the kiddos. 🍋
This blend captures the essence of a warm sunny day, while the birds sing and the flowers sway in the wind. This tea is bright, yet it is mellow-perfect to sip on while lounging about outside or working in the garden.
Blueberry & Lavender Sage Lemonade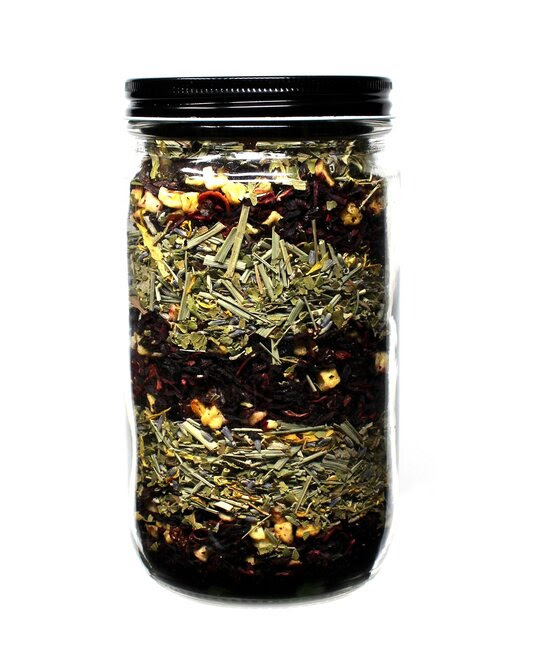 INGREDIENTS:
Blueberry: blueberries, hibiscus flowers, rose hips, apple pieces, and natural blueberry and apple flavors
Lavender Sage Lemonade: lemon myrtle, lemongrass, lemon peels, sage, lavender, rose hips, licorice root, and marigold flowers
BREW TIPS:
This blend is lovely served iced and unsweetened or with a spoonful of honey to accentuate the fruit flavor. Add 1-2 teaspoons in 8 oz of hot water and steep for 7 minutes.
🌿 THE HEALTH BENEFITS 🌿
∙ get vitamin C ∙
∙ detoxify organs and blood ∙
∙ relax and boost mood ∙
∙ soothe aches and pains ∙
∙ reduce inflammation ∙
∙ support immunity ∙
SHOP MORE BERRY BLENDED TEAS
Blood Orange & Vanilla Rooibos